The Badass Wolverine Challenge – Get outside for wolverine research – February 21 – March 20, 2016
Register here.
IMPORTANT: Download info on how to use the RaceDay App here. Using_Raceday_RunLog
DO YOU HAVE WHAT IT TAKES TO BE AS BADASS AS A WOLVERINE?

Wolverines are the ultimate winter athletes, covering hundreds of miles over rugged terrain every month. Can you match the miles?
The Challenge:  Get out and cover the miles, like a badass wolverine.
Choose from three levels:
Beginner Badass Event: Log at least one mile per day.
Badass Event: Log at least three miles per day.
Big Badass Event: Log at least five miles per day.
How it works:
Commit to one of the levels above, and head outside. Log miles running, walking, skiing, or snowshoeing. NO TREADMILLS. You gain Badass points for more mileage.
The details:
The Challenge begins on February 21st and ends on March 20th. You must enter your daily mileage to remain in the competition. You'll have four days following a workout to enter your information. If after four days you don't enter any information, you're out of the competition. (This is a function of the app we're using, so unfortunately we cannot make exceptions for people who fail to enter their mileage.)
Get outdoors and have some fun in the winter weather!
Families and Teams
We support kids, families, and groups of friends getting outdoors together. Register to participate with a child under 12, and the child's registration is free. Round up a team of five, and the team captain's registration is free. There are prizes for moms and dads who run with their kids, and for teams.
Recording Your Adventures

We want to see all the great places that the Badass Challenge takes you! Share photos of your outdoor winter training on our facebook page and instagram feed, and the best photo will win a prize. Participants will choose the winner by voting on photos. We want you to take great photos and document your adventures – but stay safe! No scrambling up that very precarious ice fall, for example, to get a shot that might result in broken limbs.
Registration cost:
$15 for any level
Register here through RaceMenu.
What You Get:
Weekly training tips and motivation from both the human and the wolverine world.
A community of fellow participants to cheer you on and engage in some friendly competition.
The chance to win fun wolverine-themed prizes, unlike any that you will win in any other running event.
ALL WHILE SUPPORTING WOLVERINE RESEARCH AND CONSERVATION! 
Prizes:
The following prize levels will be awarded at the end of the Challenge:
–The M56 Award – Most mileage for an individual for each event. Named in honor of the wolverine who traveled from northern Wyoming to Colorado in 2009.
–The Jedediah Award – Oldest participant, male and female, in any event. Named in honor of Jedediah, the 15-year-old wolverine living in Wyoming's Grand Teton National Park.
– The F4 Award – Most mileage for a mom who participates with her kid(s) in each event. Named in honor of F4, Glacier National Park's famous mother wolverine who successfully raised three litters of kits in four years.
– The M1 Award – Most mileage for a dad who participates with his kid(s) in each event. Named in honor of M1, the famous father wolverine from Glacier National Park who was recorded traveling with and teaching his kits during their first year.
–The Rosomaha Award – Most mileage for a team in each event. Wolverines are not pack animals, but in Russia, six wolverines ("rosomaha" in Russian) were once observed sharing the carcass of a bear.
–The Buddy Award – Given to the person who submits the best photo of a Challenge run in a beautiful, adventurous, or unexpected place. Named in honor of Buddy, the wolverine who shocked researchers by appearing on camera trap photos in California's Sierra Nevada range after a 90 year absence of wolverines from the state.
Why Wolverines?
Wolverines (Gulo gulo) are the ultimate winter athletes, enduring extreme conditions, scaling rugged mountains, defending vast territories, and always moving. They are fine-tuned to the winter environment and spend the coldest months of the year cruising through their snowbound territories while other big carnivores are asleep (bears) or sticking to less snowy regions (mountain lions, wolves). On average, a wolverine moves 15-17 km/day (or about 9-10 miles/day), and covers thousands of miles over the course of its life, dispersing and then tirelessly patrolling its remote domain. For sheer spirit and endurance, the wolverine is the unparalleled winter badass.
This event supports research and conservation of wolverines through affiliation with the Wolverine Foundation, a US non-profit dedicated to advancing wolverine science. You may not be able to make it out to one of our remote field sites to volunteer with a project, but you can participate by evoking your own inner badass during the Wolverine Winter Challenge. As you get outside each day, you'll be paralleling not only the wolverine itself, but the adventurous life in the field of wolverine researchers, who log hundreds of miles on skis and snowshoes tracking the elusive species. Funds from the Wolverine Challenge go directly to the Wolverine Foundation to support our projects. You can find out more by exploring the rest of TWF's website.
Oh – and why did we chose to start with less mileage than the actual wolverine daily average? Our event categories are minimum daily limits, and we didn't want potential wolverine fans to be too intimidated. But to win the event, you must log the most miles of all participants, so we're betting that people will get into the real wolverine distances.
Why this particular time range?
Most wolverines, worldwide, are born sometime in February. We use February 14th to mark the approximate date that wolverine kits are born throughout the world. We refer to this as Wolverine Birthday, even though every single wolverine is not actually born on February 14th. Wolverines kits remain in snow dens with their mothers for approximately three months, and after that they travel with both mother and father for about a year before dispersing. We're holding the Badass Wolverine Challenge during the denning period to celebrate all the new wolverines, and to take us through the final month of winter.
Coaches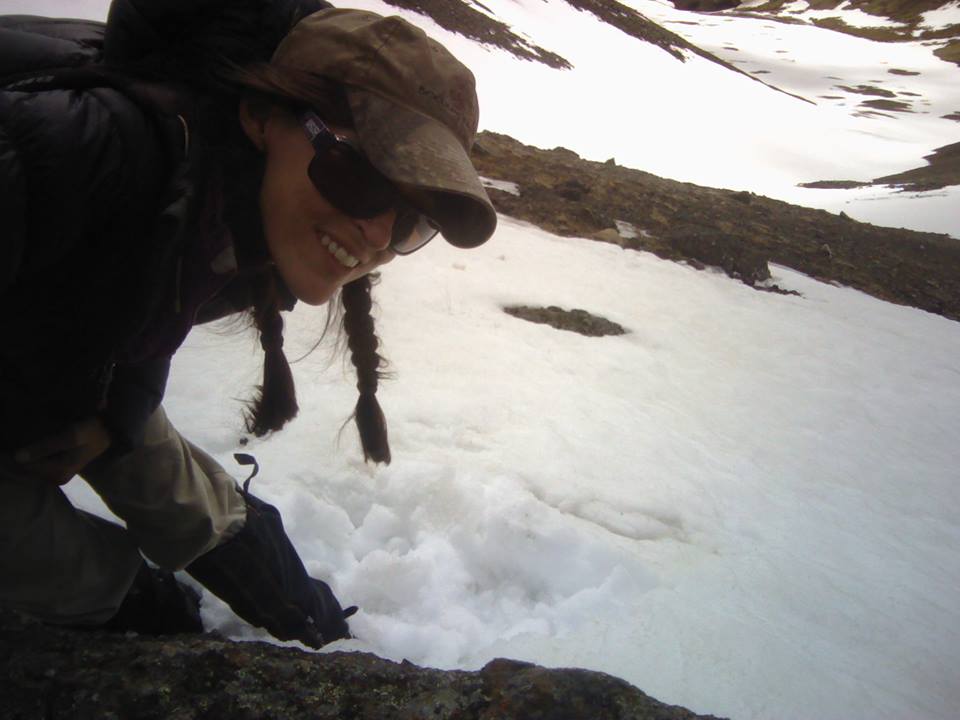 Rebecca Watters is the executive director of the Wolverine Foundation and directs wolverine research projects in Mongolia and Montana. She spends her winters on skis, and climbs mountains and runs half marathons in the summers.
Amanda Watters is an eleven-time Boston Marathon finisher and a runner with the Boston Athletic Association. She has coached high school athletes, charity teams, numerous friends, and one stubborn sister through running events of various distances.
"If wolverines have a strategy, it's this: Go hard, and high, and steep, and never back down…." – Doug Chadwick, The Wolverine Way