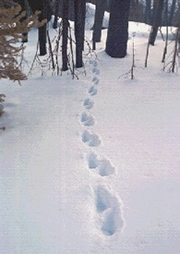 Along with reproduction, immigration and emigration, mortality is key driver of population growth and decline. Wolverines face three main mortality risks – human-caused, starvation and predation. In areas where wolverine are trapped and/or hunted, harvest is usually the main source of mortality, especially for wide ranging subadult males (Krebs et al. 2004; Squires et al. 2007; Persson et al. 2009). Other sources of human-cause mortality are road and railway kills.
Starvation is relatively common, especially during periods of low carrion availability. Injuries sustained from pursuing prey or from interactions with other wolverines or other carnivores can also lead to starvation.
The role of predation as a mortality source varies significantly across wolverine distribution. Where wolverines overlap with wolves, the risks and benefits become apparent; potentially more food from scavenging wolf-killed prey, balanced by risk of becoming unlucky prey (Burkholder 1962, Boles 1977, Gill 1978, Banci 1987). Similarly, where mountain lions occur, wolverines face similar tradeoffs (Hornocker and Hash 1981, Banci 1987, Copeland 1996). In Scandinavia, wolverines occupy higher elevations than wolves (May et al. 2008) presumably in response to predation risk.
During the first 2-3 months of life, wolverine kits face significant predation risk from other wolverine (Persson et al. 2009), as well as other carnivores. Although similar data is not available from North America, wolverine mothers go to great lengths to find secure dens for their young, suggesting that predation of young kits may be an important risk in North America as well. (Banci 1994; Magoun and Copeland 1998; Krebs et al. 2007).
<< Back to Species Account Overview
---
Literature Cited
Banci, V. A. 1994. Wolverine. Pages 99-127 in L. F. Ruggiero, K. B. Aubry, S. W. Buskirk, L. J. Lyon, and W. J. Zielinski, editors. The scientific basis for conserving forest carnivores, American marten, fisher, lynx and wolverine in the western United States. U.S. Forest Service, Rocky Mountain Forest and Range Experiment Station, General Technical Report RM 254, Fort Collins, Colorado, USA.
Banci, V. A. 1987. Ecology and behavior of wolverine in Yukon. Thesis, Simon Fraser University, Burnaby, British Columbia, Canada.
Boles, B. K. 1977. Predation by wolves on wolverines. Can. Field-Nat. 91: 68-69.
Burkholder, B. 1962. Observations concerning wolverine. J. Mammal. 43: 263-264.
Copeland, J. P. 1996. Biology of the wolverine in central Idaho. M. S. Thesis, University of Idaho, Moscow.
Gill, D. 1978. Large mammals of the Macmillan Pass area, Northwest Territories and Yukon. Rep., AMAX Northwest Mining Co. Ltd., Vancouver, B.C. 58pp.
Hornocker, M.G., and H.S. Hash. 1981. Ecology of the wolverine in northwestern Montana. Canadian Journal of Zoology 59:1286-1301.
Krebs, J., E. Lofroth, J. Copeland, V. Banci, H. Golden, A. Magoun, R. Mulders, and B. Shults. 2004. Synthesis of survival rates and causes of mortality in North American wolverines. Journal of Wildlife Management 68:493-502.
Krebs, J., E. C. Lofroth, and I. Parfitt. 2007. Multiscale habitat use by wolverines in British Columbia, Canada. Journal of Wildlife Management 71:2180-2192.
Magoun, A. J., and J. P. Copeland. 1998. Characteristics of wolverine reproductive den sites. Journal of Wildlife Management 62:1313 1320.
May, R., van Dijk, J., Andersen, R. & Landa, A. 2008. Wolverines in a changing world – Final report of the Norwegian wolverine project 2003-2007. NINA Report 434.
Persson, J., Ericsson, G. & Segerström, P. 2009. Human caused mortality in an
endangered wolverine population. Biological Conservation 142: 325-331.
Squires, J.R., M.K. Schwartz, J.P. Copeland, L.F. Ruggiero, and T.J. Ulizio. 2007. Sources and patterns of wolverine mortality in western Montana. Journal of Wildlife Management 71:2213-2220.