Almost every day we get requests from students looking for information on the life history of the wolverine. We understand that scientific writing can be difficult to understand, especially for young people who haven't had a lot of exposure to science. To help, we have rewritten much of our wolverine life history section in a format that hopefully you will find easier to follow and understand.
Just click on the sections below that interest you. You will also find a "Graphics" link, an "FAQ's" (Frequently Asked Questions) link and a "Photos" link at the bottom of the following list that you may find helpful and interesting.
TAXONOMY – What is the wolverine's scientific name; what family, order, phylum… does it belong in?
DESCRIPTION – What does a wolverine look like – color, size, shape?
DISTRIBUTION – Where in the world is the wolverine found?
REPRODUCTION – When do wolverine produce young, and how many do they have?
DENNING – What sort of place does a wolverine call home?
MORTALITY – What factors contribute to wolverine life and death?
DENSITY – How many wolverine are there?
SPATIAL USE – How large an area does a wolverine need?
FOOD HABITS – What does the wolverine eat?
HABITAT – Where does the wolverine live?
GRAPHICS – Skull, Dentition and Distribution Maps
FAQ's – Frequently Asked Questions
Comic complements Erik Brooks, Harts Pass. Visit http://hartspass.blogspot.com/ to view all archived comics.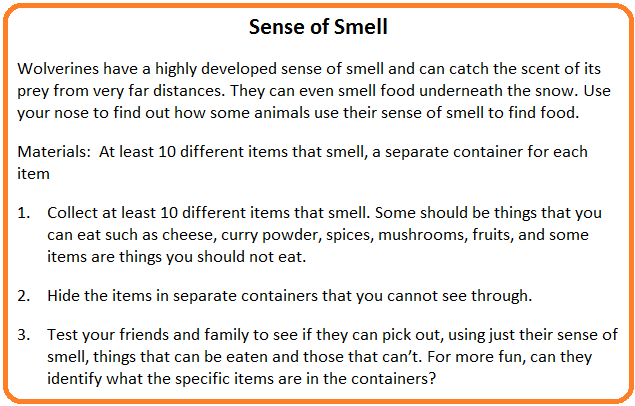 Have fun with this experiment!